Books By Brother HInes
God has burdened the heart of our Pastor to right books that present true doctrine in an easy to read way. Baptists are not known for picking up the pen - Brother Hines wants to change that! below you will find books that are currently available and others that are currently being written. All of Brother Hines material that is published is available on Amazon and all other major platforms. If you cannot afford a copy of these materials, please email Brother Hines and he will make sure you get a copy free of charge!
Revelation 1:19 "Write thou the things which thou hast seen..."
The Church Defined: What Is a Scriptural Church?
In this body of work, Brother Hines presents 11 Biblical facts that prove the concept of a universal, invisible, church is simply a myth and that only New Testament, Baptist Churches are true churches.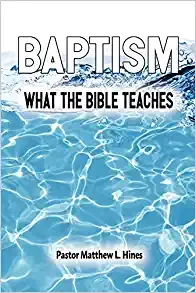 Baptism: What The Bible Teaches
Many have their own ideas about baptism, but what does the Scripture say? This little booklet tackles the importance of being obedient to the Lord through believer's baptism.